Looking from the garden down to the outdoor work space.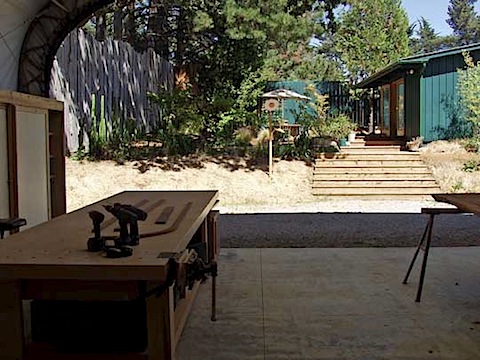 Looking Back
Standing near the great table, looking back toward the steps that lead up to the office and the garden.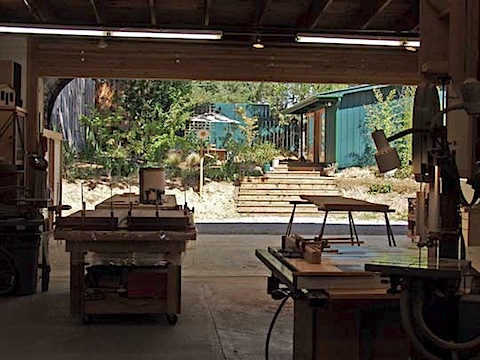 Inside Looking Out
Past the saw table, we get another look out through the broad, double sliding doors toward the garden and office.

Interior-General View
Moving into the middle of the shop, looking back toward the areas we have just visited.

Project Tables
Components of a bentwood armoire sit on the project tables.

Band Saw
A little further in stands the huge Yates-American band saw.

Chop Saw Table
12″ Makita Slide Compound Chop Saw is set into its own counter.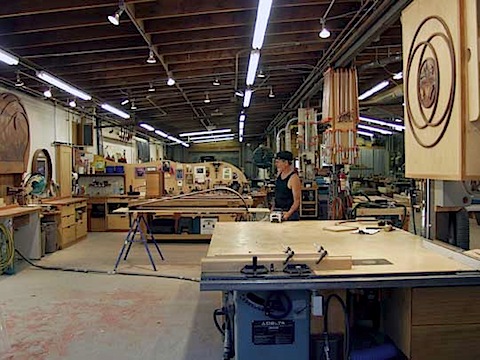 Saw Table
Entering the wood shop, we see the sprawling saw table.

Tool Counter and Storage Drawers
A broad tool counter holds frequently used hand tools, while large storage drawers support the work area.

All Tooled Up
Circle Tree Studio's state-of-the-art Wood Shop. Whatever your custom woodwork need, Circle Tree Studio can handle it. Shown here is the awesome Martin Digital Tablesaw.

The Great Table
Massive outdoor work table is 13.5 ft. long by 4 ft. wide. Behind, capacious cabinets with big sliding doors provide lockable outdoor storage.

Sunflower
Toward the garden stands this full-scale mockup of a sunflower garden shower. The final product will have 2 more leaves, and a fully carved disk of petals.