This was commissioned by a good friend of mine. The whole building was designed and built to be taken down, moved and reassembled, which happened in 2011. Now the office suite is in it's permanent location in Northern California.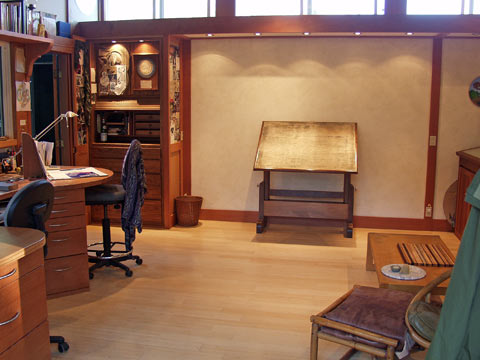 Warm Wood Office Interior and Furniture
Entering the office, we see the solid Walnut drawing table with Black Locust details. The Douglas Fir computer workstation is at left.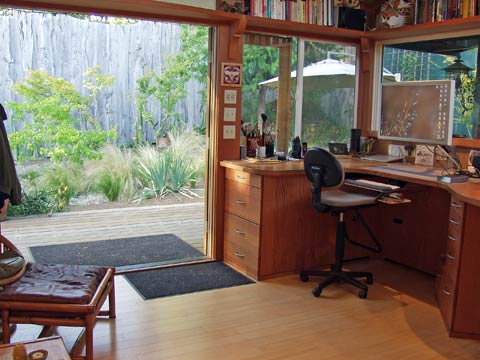 Looking into the garden from the office.
With the double doors opened up, the office becomes one with the deck and garden. The presence of this little bit of nature is always welcome, and it's great for parties.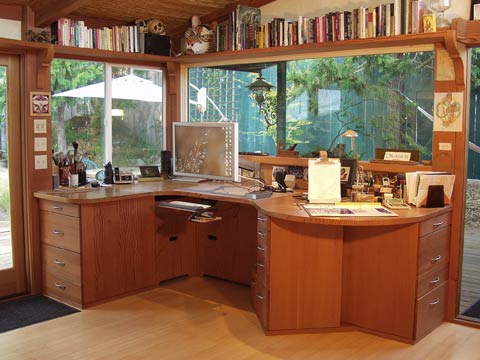 A view of the garden while you work.
The workstation is built into a window corner, with fresh air and garden views. Inside, Douglas Fir trim, corbels and shelves complete the inviting picture.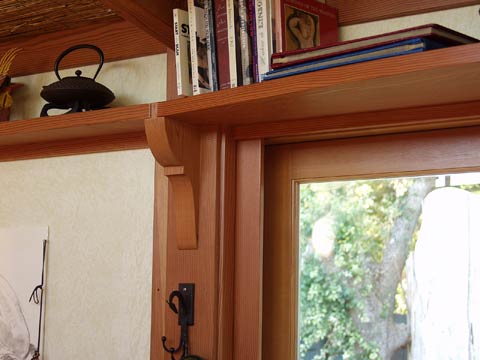 Massive fir corbel supports thick fir shelves.
Just one of many such details in the office, this corbel expresses substance, grace and strength.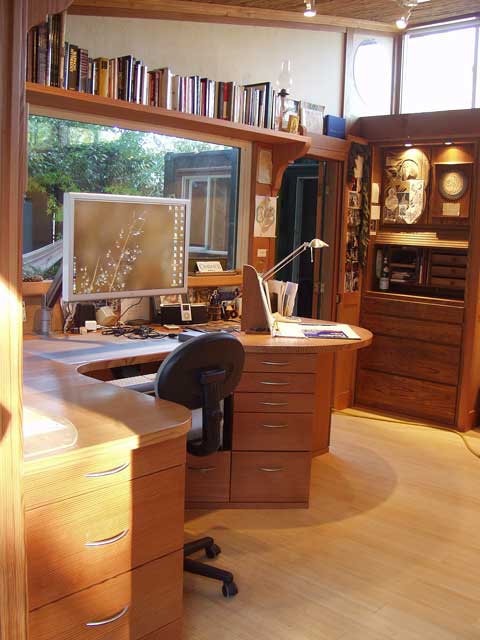 Custom Computer Bay of Solid Wood
The office interior was milled from a single Douglas Fir tree. This relatively small room gracefully serves a variety of purposes. Floor is bamboo.

Sweeping Curves Uplift and Inspire
Sprawling surface of Douglas Fir gives plenty of room to spread out. The 30″ display floats over the work surface on a vesa mount and articulating arm. How many offices make you feel happy to go to work?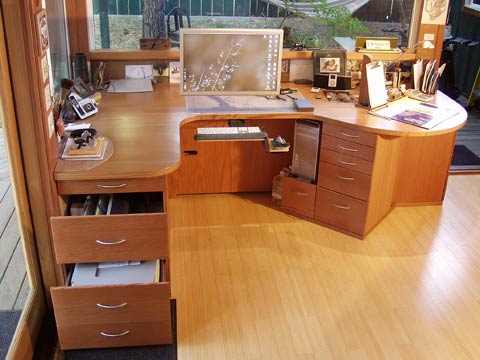 The Workstation from Above
Inviting workstation wraps you in convenience and power.
Printer and scanner slide out at left. Removable panels underneath give access to the network, cords and connections, UPS, etc. Plenty of drawers, and a second seating area complete the right side.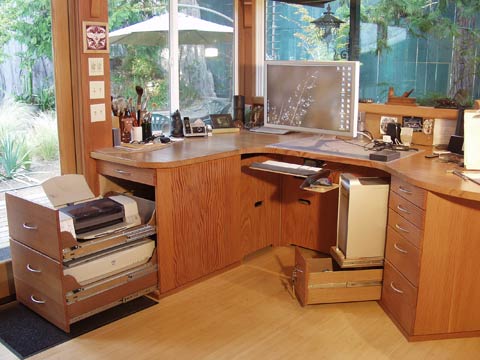 Sturdy drawers hide printer & scanner and secure the CPU.
100 lb. drawer slides easily support printer, A3 scanner, and the heavy Mac Pro. The Mac is bolted to the sliding CPU tray, with neoprene pads. Drawer underneath the CPU tray secures the tray in when locked. When fully extended, the tray allows easy access to the rear of the computer, and full access to its interior.